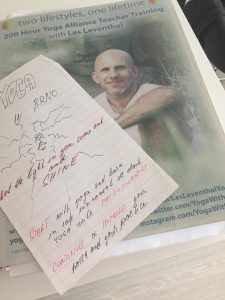 …and so I do…I just finished my very first English yoga class in the most beautiful Punk yoga studio in Brno… when I draw this leaflet 2 years ago in Bali during my Yoga Teacher Training with Les Leventhal I never thought this might ever happen. One of my biggest dreams was to be able to come back to Brno…and teach yoga….teach yoga in English…and to practice yoga with people dealing with oncologic diagnose…all of that seemed to me absolutely out of reach…but I still dreamt about it…I dreamt while drinking coffee with my friend in Saudi hospital garden…I dreamt during yoga teacher training…when Les Leventhal said: Draw your dreams on the paper and feel like it all already works out…I did it!
Of course nowadays thanks to great drawing graphic designer Petruccya the leaflet looks way more nicer but it carries the nicest message with it: IT IS POSSIBLE TO LIVE YOUR DREAMS…Iam doing yoga with a group of brave women dealing with cancer for nearly a year and now thanks to amazing Dana Cechmanova we will even be able to meet in Punk joga studio. There is a great group of people loving yoga in Brno-Slatina where I live who come to do yoga with me every week…Eventhough there were only 2 yoginis in English friendly yoga class in Punk but we all enjoyed it enormously. Already now Iam so excited and looking forward to our next yoga time there together. 
So I can honestly say myself: Love and nourish your dreams and they will fulfill as it happened it to me…LET'S ALL LIVE OUR DREAMS…
I'm looking forward to see you all in Punk or Slatina on any Wednesday….